Now available!
Industry and demographic norms can now be overlaid onto the standard Selector Insight report.
See how your candidate compares to others in a specific group as well as how they compare to the general population.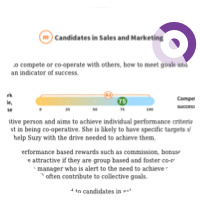 58 new reports
Initially, there are 58 new reports that can be applied to a completed Selector Insight assessment—more will be added gather sufficient data. Additionally we may be able to tailor custom overlay reports based on your own candidate data *.
For information about reading the results, see: Understanding the Selector Insight overlay report graphs.
* A minimum number of assessment results are required in order to build a custom overlay report. Contact Selector for more information or to determine if your organisation has collected sufficient data.